Selenia, 27, and her husband were at their wits end. Their two-year-old, Christian, was biting and hitting other children at preschool and often needed to be picked up immediately.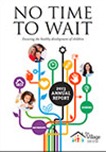 This went on for months. Then he began acting aggressively toward his baby brother. Their pediatrician recommended he see a psychiatrist but they couldn't get an appointment.
"We just felt hopeless," Selenia said. "It was one of the most heartbreaking things you can go through as a mother. I was scared of him – I just didn't know what was going on. And no one had answers."
Then, Selenia heard about The Village and asked us for help with her son. He was welcomed into our therapeutic preschool and evaluated by a clinician, using an innovative tool called the mid-level developmental assessment (or MLDA). It was created at The Village to help children like Christian receive services before problems escalate. Christian received therapy and, in our preschool, experienced staff worked with him and his family on his developmental and behavior issues.
Christian is now in second grade at a magnet school and "doing amazing," Selenia says proudly. She says she feels lucky to have found The Village.
Hear from Selenia and others about how the mid level developmental assessment is helping children and their families access services.