2021 Foursome for Fatherhood
TPC River Highlands
One Golf Club Road, Cromwell, CT 06416
Each June, The Village hosts the Foursomes for Fatherhood Golf Classic to raise funds for our programs that provide fathers with the skills and support they need to be involved in the lives of their children.
We have several sponsorship levels available for the 2021 Foursomes for Fatherhood Golf Classic, which benefits Village programs that provide new and expecting fathers with skills and support they need to be involved in their children's lives.
Kids Go Further with Fathers
Many of the young fathers helped by The Village have not had a father or even a mentor to serve as a positive role model.
Here is why children need fathers in their lives:
66% of African American children, 35% of Latinx children and 27% of Caucasian children live apart from their fathers
85% of children with behavioral problems come from fatherless homes
Fatherless children are twice as likely to drop out of school
Youths are more at risk of substance abuse without a highly-involved father
2019 Golf Tournament Wrap-Up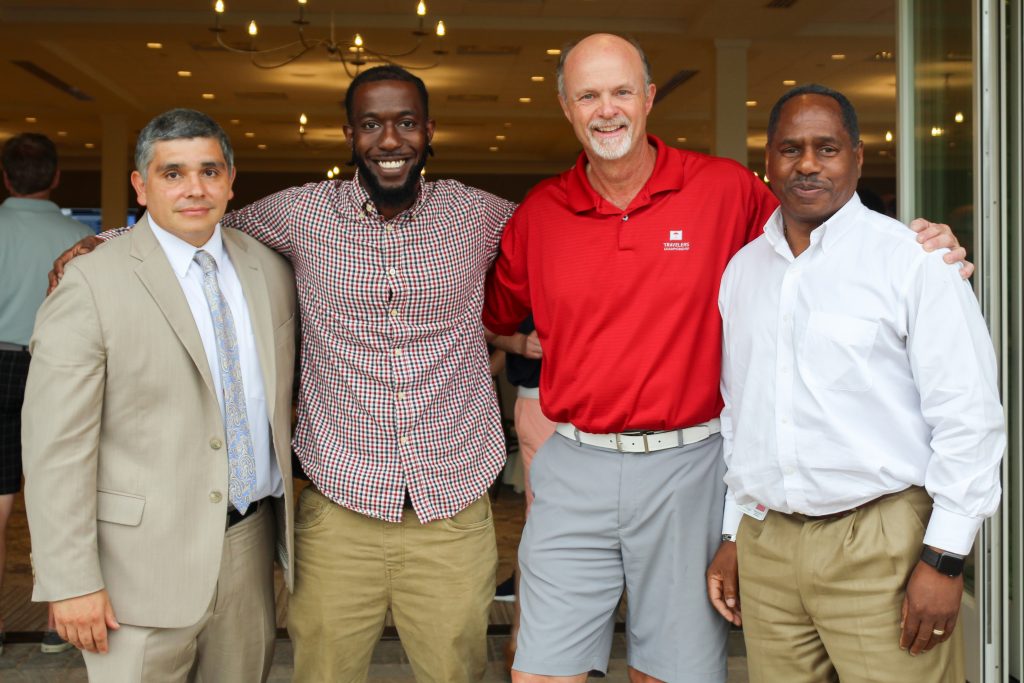 On June 10, several sponsors and more 120 golfers helped raise more than $100,000 for fatherhood programs at The Village.
Marcus (second from left) shared his story about The Village's Fatherhood Engagement Services program helped him thrive as a single father of three young children. Mark credits Don Crocker, the program's supervisor, with teaching him to put his children first and providing him with a special brotherhood that has helped him grow as a man and a father.
Also pictured are Hector Glynn, The Village's COO; Brian Reilly, Village board member and event chair; and Don Crocker, Fatherhood Engagements Services program supervisor.
About TPC River Highlands
TPC River Highlands was named by Golf Digest as "One of the Top 10 Golf Courses in the State" and by Connecticut Golfer Online as "Best Private Course in the State" for six consecutive years.
The course meanders over 148 acres with stately corridors of mature maple, oak, sycamore and eastern white pine trees framing gently rolling fairways. The course features Bentgrass from tee to green surrounded by bluegrass fescue rough. Numerous lakes and ponds add to the golf course's beauty.
TPC River Highlands' award-winning golf course boasts a tough finishing stretch from holes 15-18. The 15, 16 and 17th holes all play around a four-acre lake. Stewart Cink, who won the 2008 Travelers Championship, called them, "four of the most exciting finishing holes in a group anywhere in the world."