Our guests discussed the importance of promoting self-worth, self-love and empowerment as well as connections between mental health and eating disorders.
About our guests:
Tanisha Akinloye
– Founder of
Empowering Through Beauty, Inc
.
Tanisha empowers people, especially women and girls of all backgrounds. After overcoming many setbacks, Tanisha realized that power and self-worth are not defined by circumstance, material possessions, or the opinions of others. Led by this knowledge and strong faith, she created a non-profit organization that combined her skills in the beauty industry as a salon owner with her education in psychology. As a result, Empowering Through Beauty was born in 2010. Empowering Through Beauty's mission is to make the world more beautiful, to be love, and to alleviate and prevent inner suffering. Through her organization, she has created partnerships near and far with women organizations, community organizations, churches, beauty salons, barbershops, and beauty professionals forming pathways for charitable contributions to the local community, including survivors of human trafficking, domestic violence and addiction, homeless people, and inner-city schools.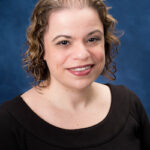 Dr. Melissa Santos
– Division Chief of Pediatric Psychology and Clinical Director for the Pediatric Obesity Center at Connecticut Children's; Associate Professor of Pediatrics at the University of Connecticut School of Medicine
Dr. Santos oversees the treatment of youth and their families in the Center's nationally accredited bariatric surgery program and its behaviorally based non-surgical weight management programs. She is the pillar lead for Connecticut Children's Diversity, Equity and Inclusion initiatives focused on patient healthcare inequities. Her research is focused on the improvement of obesity treatment outcomes by examining methods to better tailor treatment to presenting comorbidities. She is currently NIH funded to examine a psychological treatment for youth with comorbid obesity and chronic pain. Dr. Santos is President-Elect for the Society of Pediatric Psychology.